Matterhorn 10.2
Item Details
|
Reviews
(
4
)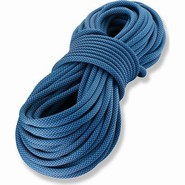 Manufacturer:
Mammut



This item may be available at:
Description
The Mammut 10.2 SuperDry Matterhorn Rope is the jack of all trades of the Mammut rope line. Fat enough to be durable and confidence inspiring for top roping and working routes, yet light enough to carry on a backcountry route. The SuperDry treated Matterhorn is fit for any hard core adventure. Great for Sport climbing, all-around climbing, multi-pitch climbing.
4 Reviews
Good Rope
Review by: ClimbingArkans, 2012-06-29
My first rope that has survived a lot of wear but still held up very well. It weighs more than ropes in the same size range but if you can get over that it's really good.
Nice rope
Review by: skitzboy, 2009-04-09
Got it with the member discount event for $152 regular price was $199.99 Bit heavy but well constructed. If you are looking for a good entry level rope this is it.
Nice rope
Review by: Johnarmcit, 2008-04-18
I also got mine for about $150 or so, and it was worth ever penny. When I initially purchased it I only intended on using it for top roping, but I eventually began to use it for some trad work. On some of the more coarse rock the rope held up like a champ , and still have yet to find any noticeable damage. All in all it is a good well rounded rope but it is a bit on the heavy side. So I wouldn't recommend it if you are weight concise when your leading.
Great Rope
Review by: Laxinbueck162, 2008-04-15
Got mine on sale for $150 and it was a definite steal. Have been climbing on it for a while and would recommend it for anyone. The rope has a good bit of stretch to it so it makes for softer falls. It runs very smooth over an atc with the perfect amount of friction. If weights important to you than i would stay away from this one though.