Monster 10.2 mm Rope - Non-Dry
Item Details
|
Reviews
(
3
)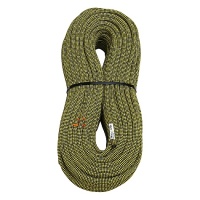 Manufacturer:
Metolius



This item may be available at:
Description
A safe, hard-wearing rope aimed at performance-oriented, weight-conscious rock climbers.
Uses: sport & trad climbing, hard redpoints, on-sights, free walls, alpine rock. The Monster 10.2 is a smooth-running, easy-clipping, very compact rope with a super-durable, long-lasting construction.
Includes FREE Ropemaster Rope Bag!
Dry-treated and avail. in 60 or 70 M lengths
UIAA falls: 7
Weight: 65 g/m
Sheath slippage: 0
Max. impact force: 750 daN
elongation: 7.8%
Certification: UIAA, CE, EN 892
Price (w/ rope bag):
60m - $189
70m - $216.70
3 Reviews
for this price?
Review by: m2j1s, 2007-05-17
after one season of use this rope fuzzed up and got much fatter. It also lost the midpoint strings and 10 meter strings after just a few times on the rock! this made it very difficult to find the midpoint...all in all this rope is a pricy piece of crap
Review
Review by: reverse_dyno, 2006-08-12
I bought one of these ropes a year ago. It fuzzed up badly after the first summer of use. I took it on some Granite and was caught in a rainstorm. Had to rap down 4 pitches in the rain, somewhere along the way I twisted the core badly. Never heard, or seen that before. The core was actually twisted inside the sheath. Had to cut that section of the rope out. Not only that, but the core and sheath slipped so much that the core came out of one of the ends of the rope about a centimeter. It is the worse rope I have ever used, and will never buy another Metolius rope again. Buy another brand of rope, as far as I am concerned, Metolius ropes are garbage.
Review
Review by: forkliftdaddy, 2005-04-12
My buddy had one of these that was defective -- SUPER SOFT, sheath stitched through the core, deformed badly over any edge, very hard to clip. Aparently Metolius had a bad batch. Be careful!