Nomad 9.8mm x 60m Dry Rope
Item Details
|
Reviews
(
3
)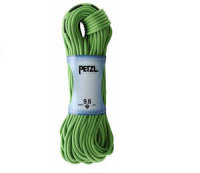 Manufacturer:
Petzl



This item may be available at:
Description
The Petzl Nomad Climbing Rope is a lightweight workhorse for everything from an overhanging sport project to a massive alpine objective. At 9.8mm, this smooth-handling cord bridges the gap between next-gen skinny ropes and old school fatties. Its durable, thick sheath holds up to repeated abuse from gritty southern sandstone or alpine granite, and the Duratec dry treatment coats both the sheath and the core for long-lasting protection from wetness and freezing.
3 Reviews
Petzl Nomad rope
Review by: shedin, 2011-05-04
I took this rope out the first time and it totally flattened out on rappel. The inner cord feels loose from the outside webbing. I used it a second time and from up on the rock looking down toward the ground you could visabley see the outside sheathe twisting around and around although the climber was not moving... Anyone else have these problems?
Excillent
Review by: TheSl0th, 2009-03-18
9.8 is an awesome size, the rope feels great belaying and for sport climbing, ive never used anything better.
Petzl Nomad
Review by: climberclif, 2008-07-24
I've only had this rope a month or so, but it so far it's been an awesome replacement for my thick and worn out mammut. It's much lighter, easier to carry, and handles beautifully! So far it also seems to be very resilient to sheath wear. It's the best all around rope I've ever used...