On Sight Rope 9.9MM x 60M
Item Details
|
Reviews
(
3
)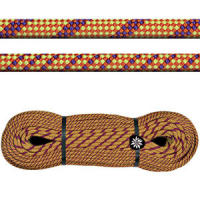 Manufacturer:
Edelweiss



This item may be available at:
Description
As the name implies, the Edelweiss Onsight Arc 9.9mm EverDry Rope is designed for pushing your onsight limits on both alpine and sport terrain. Sometimes onsighting demands skipping bolts or running out the gear placements not that we recommend doing either of these. The Onsight Arc has all the features you need in this scenario. It is lightweight and lithe for low drag, easy handling, and fast clips. The Arc differential weave pattern allows you and your belayer to easily identify the middle of the rope information that is vital to safety when linking pitches and lowering. The Perdur and EverDry coatings increase durability by up to 33 and significantly improve water resistance respectively. Both qualities are vital to your safety and confidence when you need to really go for it on the sharp end. Comes in 60m and 70m lengths.
3 Reviews
soft first day out
Review by: seeds, 2008-10-12
the first day i took this rope out it immediately got soft after a few falls. my last rope, a beal, held up much better than this rope. i probably would not buy an edelweiss again. i had to trim 10 feet after the first day out.
On Sight
Review by: zealous89, 2007-12-15
This is such an awesome all around rope. Great durability and weatherproofing and Edelweiss always gives you the best bang for your buck. If you want one rope to do it all, this is it!
Review
Review by: everythingelse, 2006-04-21
Just got this rope
one of the hottest ropes i've ever set eyes on
got the arc (yellow, pictured)
i'll fill you in when i've spent more time with it

-i have now spent some wonderful time with this rope
it is light and very quick
i've climbed some granite up in mn and sandstone down at the red (trad)
and it has held up great
no complaints except for one (minor)
bees love it

pwigg