Sharp ARC Rope Purple/Yellow 10.5MM x 60M
Item Details
|
Reviews
(
2
)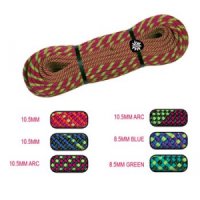 Manufacturer:
Edelweiss



This item may be available at:
Description
The special construction of the Edelweiss Sharp ARC 10.5mm Climbing Rope allows it to pass UIAA sharp-edge test falls which cut most ropes like a shoelace. This rope should definitely be tied to your harness if you lob for a big whipper on sharp rock. In addition to this incredibly important design feature, the Sharp ARC Rope also includes a bi-color pattern sheath to help you quickly identify the middle of the rope. This saves tons of time in rappelling situations, It also lets you know when your climbing partner has reached the half-way point and can still lower safely to the ground.
2 Reviews
Sharp
Review by: jeepnphreak, 2009-11-06
I really like this rope. It is the only rope so far that has lasted for more that one season. I useall go through one rope per summer, but the sharp has performed well. Its fairly supple but is stiff enough for easy clipping. The only down side is that the sharp only comes in a 10.5 and 8.5mm, a mid to high 9mm would be perfect. I climb on some sharp limestone and the sheath after two seasons is mildly fuzzy and warn, much better than ther ropes I have tried. This rope would be a great top rope for any biginner. for lead is get a bit heavy...
nice rope
Review by: duckduck, 2008-08-28
My first rope and it's done well by me. It mostly been used for top roping so the bicolor pattern is very useful. Supple feel and knots well. You can find it way cheaper than MSR. I've only handled about 3 or 4 other types of ropes though, FWIW.