Silver III
Item Details
|
Reviews
(
1
)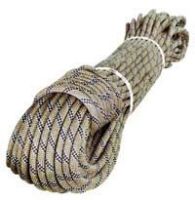 Manufacturer:
Millet



This item may be available at:
Description
A single rope for sports climbing, cliffs and rocky Alpine routes over aretes. The core of the SILVER III is reinforced for enhanced solidity and extended lifespan. For climbers seeking superior climbing and product performance in equal measure. Diameter: 9.8mm / Weight: 63.2g / m. 70mm Features: • Weight per Meter: 63.2g • Number of Falls: 6 • Impact Force: 864 daN • Elongation: 6% • Knot Flexibility: .92 • Sheet Slippage: 0mm Sheath coated to protect against dust, sand and external attack. Core strands synchronised before braiding to eliminate the "sock effect". 48-strand tri-axial core.
1 Review
Long lasting
Review by: Fifoxtasy, 2007-10-05
i got the version without impregnation more than a year ago. I only had to cut one end by 2m because it was worn, and I climb a lot! the impregnated version (they only sell em like that this year) is supposed to be even longer lasting!
i'd say this rope lasts longer than others with the same diameter.
good compromise between weight+performance & lifespan.