Supernova 10mm Rope and Rope Bag Package
Item Details
|
Reviews
(
2
)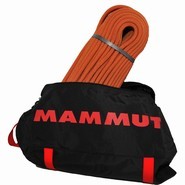 Manufacturer:
Mammut



This item may be available at:
Description
The 10mm Supernova Rope by Mammut is an incredibly well made dynamic rope that is perfect for beginners to seasoned climbers alike. Mammut starts by using only the most high quality Polyamide nylon for the production of their ropes, and their exclusive coating finish process coats each individual rope strand with the highly durable Teflon in order to reduce chafing and improve friction co-efficiency. Mammuts ropes all have middle marking for easy view of the center of your rope, great for rappelling or noting how much rope is left when on a multi-pitch. Besides just getting an awesome rope, Mammut is also throwing in a rope bag with a super big tarp to keep your rope and gear on when climbing. A rope bag is key to keeping the life of your rope at its optimal performance.
2 Reviews
first rope
Review by: wongpong, 2011-07-16
Works fine. I use it mostly for Sport, got lots of big falls on it and it's pretty good ....and cheap!
Great value
Review by: noodles, 2009-06-23
I use this rope for sport climbing and it works great. It seems to kink less than other ropes I've used. The included rope bag is definitely a bonus.