Torrent ARC Rope 10.5MM x 70M
Item Details
|
Reviews
(
3
)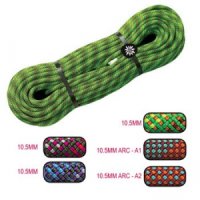 Manufacturer:
Edelweiss



This item may be available at:
Description
Do you have champagne taste on a beer budget? If you answered yes, then this is the rope for you. Since its inception, the Torrent has earned a reputation as the best bang for your buck available Finally, a rope that all climbers can afford, with all of the great features that you have come to expect from Edelweiss. All Torrents are dry treated using the Edelweiss-Everdry system. Colors may vary. Now available in ARC pattern, the ARC is a bi-pattern rope that changes weaves at the halfway point so you always know when youve reached it. Style number 443443
3 Reviews
Just my two cents
Review by: nb_boarder16, 2007-04-12
So this is pretty much one of those reviews where I agree with the previous reviewers but with a little extra info. They are both right in the fact that it is a little over-stiff straight out of the package. It also tends to twist initially so I've found its best to top rope with it for a day before taking it along on a lead. It will smooth out soon and now there are few ropes I prefer more than my well-worn torrent. Even though it runs fine through gear and draws it still runs a little slower through my belay device than most other 10.5 ropes. If you want a superlight leading rope then you might as well keep looking, but if your in the market for an all-arounder that will last you a while then this is the rope for you.
Review
Review by: wlderdude, 2004-08-04
I am on my second Torrent. They are stiff but wear well. I end up doing lots of top ropeing and this rope holds up exceptionally well. But a softer rope would be nice to cut back on rope drag when I lead. The value is good. The fall rating is a bit low, though for a 10.5mm. For TR with ocassional lead, this rope is hard to beat.
Review
Review by: sarcat, 2004-04-08
This will be my 4th rope. I got it because for the price it's unbeatable. Duo-pattern and dry!. It's more stiff than the Mammut that was #3 but about the same as the first two ropes I had that were both Maxim.