Boa Duffle Bag - 2136 cu in
Item Details
|
Reviews
(
1
)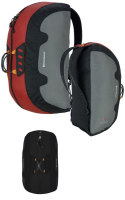 Description
A durable duffle bag backpack, the Boa Duffle has padded shoulder straps, making it ideal for climbing at crags with short approaches. A zipper down the centerline allows access to the main compartment and molded handles let you carry it as a duffle between routes or when you're shouldering a bouldering pad. An internal zippered pocket keeps your small essentials safe. A detachable tarp is included to keep your rope and gear clean.
1 Review
Great Day Bag
Review by: napoleon_solo, 2008-07-25
What attracted me to this bag was that it was both side- and top-loading (or -unloading). With a 35-liter capacity, it would be small for a major campaign, but for a day out top-roping, it's great. It holds my static rope and all my gear with no problems. It has a handle at the top, handles to carry it like a duffel bag and shoulder straps so you can wear it like a backpack. It also has a little compartment to carry things like maps, keys, etc. Black Diamond did a good job with this one.