Super Slacker Rope Bag
Item Details
|
Reviews
(
13
)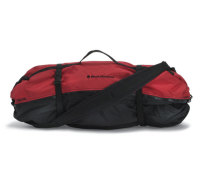 Description
Dirt, debris and grime are a rope's worst enemy. Do a rope a favor and get the SuperSlacker. Designed for the lazy slag in all of us, the SuperSlacker does away with coiling hassles and seals up with the tug of a zipper. The SuperSlacker also makes a great rope bucket on multi-pitch routes. Keeps a rope clean and tangle-free Padded shoulder strap and zippered closure Folds out into a large tarp for belays
13 Reviews

Write your own Review


Read all 13 reviews
Keeps rope clean.
Review by: jarobinsoned, 2009-06-16
This is a good bag if you don't plan on hiking too far with it. The single shoulder strap lets the bag swing all over the place when hiking and scrabbling to the crag. It has a huge tarp which is nice and there is enough room in the bag for my essential gear. However, I would NOT recommend this bag to a friend. I'd go with the Metolius Rope Ranger instead.
Great bag
Review by: asellers98, 2008-09-17
My 70m Kosmos fits nicely inside it, and is hassle free. The large tarp is perfect, and why I chose this bag over the Metolious bags. I made the right decision, this is the better bag for my needs.
superslacker
Review by: leadon451, 2006-12-22
huge tarp for keeping your rope clean. only downside i see is that it only has one strap. 2 would seem to be better for approaches.
Review
Review by: kane_schutzman, 2006-09-24
Awsome bag. Keeps my ropes clean and dry. I have stored two ropes in this and they both fit nicely. Tarp is cool for sitting on too!
Review
Review by: ladylayback, 2004-10-10
Love the roominess for a 60m rope plus webbing, harness, shoes, etc. The tarp is pretty kick ass too. I wish it had the metal buckles like Metolius' latest bag and 2 shoulder straps.