PMI E-Z Bend Sport 11mm Static Rope
Item Details
|
Reviews
(
3
)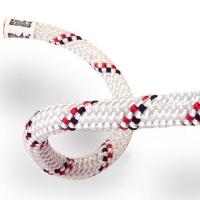 Description
This low-stretch static rope is a favorite of cavers and search-and-rescue teams. Kernmantle construction--braided nylon sheath over nylon strand core--offers low static elongation and superior abrasion resistance. Durable EZ-Bend nylon sheath offers greater flexibility than most static ropes, making it easier to knot. Diameter is 11mm 0.43 in. which is 7/16in.
3 Reviews
EZBend is too fragile!!
Review by: ml_nelson, 2011-05-14
I've had this rope for 2 years now. The sheath is unacceptably fragile. My partner has a Bluewater rope & we use them interchangeably. The Bluewater looks near new, the EZBend if probably though 50% of its life.

The EZBend has only one advantage... it takes & hols knots much better that the still rope. BUT, the life is way to short. STAY AWAY!!!
rope
Review by: deadhorse, 2007-02-10
I have about 200' of this, by the foot buy. It's nice and strong, and rather abrasion resistant. I have never broken a piece, and I think i would have if i was going to, because I used this in a tyrolean traverse over a gorge.
The only downside is that it's pretty stiff (i don't know if mine is EZ bend) and when i use it for fixed line applications, it doesn't handle great, but passably, in rappell/belay devices.
Review
Review by: tex21, 2006-05-13
No text provided