Next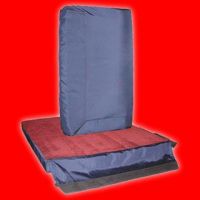 Description
Derived from the ubiquitous Cordless D-Lux Crash Pad, this tough rig covers all your needs. Soon to be the world's most popular crash pad.
- For everyday bouldering usage
- One piece "Taco" fold
- Velcro closing side and bottom flaps
- Padded shoulder straps, adjustable hip belt
- Ballistic Nylon shell
- Shoe cleaning upholstery top
- External Velcro closing pocket
- Size: 50" x 40" x 3.5"
2 Reviews
Decent pad but velcro is no good
Review by: dashclimber306, 2007-05-01
worked great for a few seasons, but the foam is outliving the velcro closure system. Seems great at first, but I will stick with buckles from now on. I do wish more pads would copy the large size of this pad, it looks noticable bigger next to a 3'x4' pad but is still compact.
Review
Review by: jman93, 2005-08-06
No text provided