Cheap Bastard
Item Details
|
Reviews
(
11
)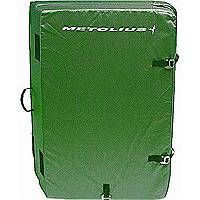 Manufacturer:
Metolius



This item may be available at:
Description
Durable nylon diamond ripstop cover with textured top for shoe cleaning The highest-quality dual-density foam available in a bouldering pad: 3.5" of open-cell to absorb energy layered under 1" of closed-cell to spread force out. Unbreakable aluminum buckles - guaranteed for life! Angled hinge with hook and loop closure virtually eliminates the gutter in other fold designs Rounded corners reduce wear Padded shoulder straps Waist belt Suitcase-style, molded carry handle 36"x 48"x 4.5" open, 36"x 26"x 9" folded Colors: Olive or Charcoal
11 Reviews

Write your own Review


Read all 11 reviews
I love it :)
Review by: sirmarc, 2011-05-27
I have it since I started bouldering, and I go in the woods, with lots of bush...and lots of hard roads, it's very light, easy to carry, and the durability is really great, just don't be aware not to scrap it on sharp rocks... lift it up then move it
Have Bag
Review by: lawndart1984, 2011-01-31
Great bag
it's not what you think
Review by: Zenn85, 2007-12-23
yes it is economical, but it is small and hard, its thickness is a plus but you are constantly aiming for it when you bail or having someone keep moving it for you. I prefer something i know will be there for me at a crux
Good Price, Works as a Pad (maybe people expected more?), Seems Durable
Review by: bmwman91, 2007-11-27
I got mine at REI about 8 months ago. It has been out bouldering with me 20+ times, and I have no complaints. The other option I considered was the Fat Bastard, but the fuzzy Velcro-ish outside surfaces really turned me off. They looked like grass & twig magnets. The Cheap bastard seemed superior due to its cheaper construction: ripstop nylon outsides do not attract anything more than dust.

So far, my biggest fall has been 9ft directly onto this pad. I have NO complaints about this pad. It took the impact (feet-first fortunately for me) just fine, and I was right back on the wall. Body-impact falls are a little rough perhaps, but I prefer that to the softer pads that leave elbows "piercing" the foam right into the ground below. The shoulder straps work fine, but the waist belt IS a little clunky since it is not well attached. Still, it works fine on the various approaches I have taken it on. The thing is a bit wide, so narrow passages require you to take it off and turn it sideways. Also, there is no gear pouch. Jamming your goods between the halves works fine though with its side & bottom straps. It securely holds my Camel-Bak, shoes & chalk without any problems.

Some people have mentioned seams tearing & shoddy construction. Mine has not exhibited these characteristics (yet), and it seems well made for the $70 I paid (clearance). Overall, I am quite pleased with the design and have no real gripes. It is unfortunate that others are bummed out on theirs.
Soft, and poorly manufactured
Review by: unrooted, 2007-04-03
I bought this pad and used it one day, the foam is super soft compared to Metolius's fat bastard and mad rocks pad. The pad started tearing at the handle on the first day, definately buy something else.