DropZone
popular
Item Details
|
Reviews
(
32
)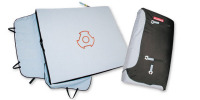 Description
"The best pad going. With 1/2 inch more foam than other pads its size, your ass (and ankles) will thank you for each and every soft landing. With a PU coated 1000D Cordura top sheet and a vinyl coated 1000D Cordura bottom, the Drop Zone is durable and won't cover you in dust or grime. Backpack-style straps make for easy carrying and the kick-ass closure system won't lose your gear, your keys or excess cash (uh... if you have any)." - Franklin Website
32 Reviews

Write your own Review


Read all 32 reviews
Worth the scrilla
Review by: gaalsent, 2008-07-10
This is my go-to pad. Own two metolious pads and a madrock additionally. the dropzone closure system keeps my swag safe when on approach, and the actual composition of the pad cells make landings more comfortable than other brands. moreover, its relatively comfortable on the back -straps are decent in padding even for a taller climber. plus the fabric makes for a good shoe wipe plus easy cleaning. succumb to the urge...buy it.
Review
Review by: zach540, 2006-06-12
Great pad, the actualy cover is extremely nice and easy to clean. The material easily cleans shoes. It has a nice sized comparment for storage as well. Would highly recommend to anyone looking to buy a pad, only downside to this pad is the price, which is what prevents me from giving it a 5.
Review
Review by: karate_kid, 2006-04-25
This pad is large and in charge. I bought it on sale, because Franklin started making the Drop Zone II. Nice gear pouch for small stuff and a closing system that keeps all your things from falling out. After falling on it for a year consistently and folding it, it has started to develop a decent gutter . . . I expected the time to come. The strap systems are decent but could use improving, it is mildly difficult to close and chair straps would be appreciated. All around, it's an amazing pad though and I reccomend it to all boulderers, from rich experts to cheap college beginners.
Review
Review by: spydrman87, 2006-03-28
this is a great pad. i have had mine for a couple of months. it is durable, it packs GREAT, you can set it up and pack it up quickly, it has plenty of cush to it. we have dont some good high ballers and it still feels good to land on. unless your budy forgot to put it under you.
Review
Review by: zao479, 2005-10-25
Nice! It has a good firm landing. I use at a 45 on some pretty sharp stuff and it never slips or bottoms out. Packs well and catches well...what else do you want.