Fat Bastard
popular
Item Details
|
Reviews
(
4
)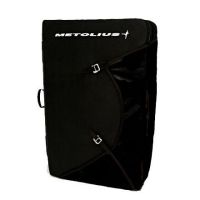 Manufacturer:
Metolius



This item may be available at:
Description
Stiff cushioning with 4" of quality foam. Non-slip carpet landing surface for wiping shoes clean. Comes in all black, flames, and other colors. Retails for $170. Backcountry had it for as low as $102

3" open cell + 1" closed cell foam, 45 deg hinge, pouch wrap with buckles, shoulders and waist straps, carry handle, zipper pocket for keys and condoms

36 x 48 x 4" -- open
36 x 26 x 8" -- folded
4 Reviews
Fat Bastard is the way to go.
Review by: deadhorse, 2008-06-24
This pad is really great. I've climbed with misty, bluewater, black diamond pads, and I think the metolius foam is probably the best. It's very durable, and once it's broken in it stays at that density. I love the way the closure actually keeps things in. The materials are terrific, My area has lots of close, tight passages where the pad scrapes and it has done just fine holding up. I bought this pad based ona shootout a while back, and I believe they were right. For the price it can't be beat. Prices not considered, it's still hard to beat, but a flashed pad might take it.
Review
Review by: rockbuddha, 2006-03-22
i love it has a lot of padding but not extremely bulky. saved my ass a few times already. Its very durable too.
Review
Review by: j_ung, 2005-10-09
Written by Michael Reardon ([user]michael[/user]). Edited and posted by Jay Young.
[b]Full Disclosure: The company that manufactured this equipment provided it free of charge to RC.com and RC.com then provided it as compensation to the reviewer for his or her review. This company does not currently advertise on RC.com.[/b]

[img]http://photos.rockclimbing.com/photos//624/62439.jpg[/img]
[size=12]
[b]12:30 AM:[/b] The sheriff knocks loudly on my front door calling for a voluntary evacuation. With only fifteen minutes of sleep under the lids, I stumble out the door towards the gathering neighbors, only to have my wife, a much more sensible being, shove me back inside to put on some clothes. Uggs are best seen with other clothing apparently.

[b]12:31 AM:[/b] I stumble back outside to the end of the driveway and see that summer has come to an end, Southern California style. Every year there is a grand old bar-b-q around these parts and living in a house butted up to thirty miles worth of wilderness is great for watching the dog chase bobcats, or be chased by a mountain lion, but not so much fun when sparks fly and Mother Nature reminds you of your place. Fear is the worst thing any parent can see in their child's eyes to which I make my daughter giggle by asking, "Who's got the marshmallows?"

[b]1:00 AM:[/b] We scramble to pack the valuable things in our life. Marci grabs the insurance papers, food for the dogs, Gatorade, water, and her purse - which I'm sure is some form of black hole of indispensable items that can easily support a small country. Nikki gathers clothes, her favorite stuffed animal, and lipstick. I grab a pair of climbing shoes, chalkbag, and my brand new Metolius Fat Bastard crashpad. Marci gives me that "how stupid are you" look and I realize she's right.

[b]1:01 AM:[/b] My Papua New Guinea Penis Pouch and out of print Needles Guidebook are placed into the car. Then we wait.

[b]2:00 PM:[/b] The phone finally calms down and Nikki has won 4,926 hands of Go Fish. I try watching the news. A Fox blonde wants the world to believe that everyone in California deserves to die for the audacity of being a "blue state" and some middle-aged white guy with really bad hair is wearing a gas mask on NBC while standing on a burning ridgeline. I step outside to walk the dog and realize the ridgeline is next to my house. The neighborhood kids are handing out water to the firemen, moms are dropping off meals to the fire station, and a Fed Ex truck drives by to deliver a package. Reality is that properly maintained landscapes and a well-executed plan by trained firefighters kept the blaze pretty much in complete control. I look back at the news and wish the fire was closer so I can toss my television into it. I grab the Fat Bastard and take it up the street to watch the inferno from the front seats.

[b]2:15 PM:[/b] The fire shoots fifty feet into the air, warming my back, but the
Bastard keeps my concentration. Three feet by four feet and four inches thick, it truly is a fat bastard. I squat down to test the open cells and see how far I can get it to squash down. Bouncing around on my hands and knees, a rat dog attached to the lemon-squeezed face of a spinster reject gives me a snort. "These portable beds have revolutionized the porn industry," I respond.

[b]5:45 PM:[/b] I'm home again, flipping through two weeks worth of pictures taken during the testing phase. The Outlaws brutalized the bastard and each gave it one of the best ratings to date. Wes gladly placed it at the base of his circuit, Big Tom took plenty of beastly falls, and it allowed me to continue bouldering during a minor knee tweak.

[img]http://photos.rockclimbing.com/photos//624/62440.jpg[/img]

• Velcro: large strips on the sides allow for two pads to stay connected and stop the heal bruising when falling in between.
• Aluminum Buckles: they're flat to provide no distortion of the pad when tucked under, and they survived repeated testing of how unbreakable they are, including one incident that caused a certain someone to call AAA to repair a flat tire.
• Easy Fold: a feature standard to most Metolius Pads, it stops the padding from crimping up in the middle.
• Cloth Wrap: covers both the bottom and the side openings to allow for easier packing of items in the middle so they do not fall out.
• Foam Padding: three-inch open cell with one-inch tighter made it hard to bottom out, which was repeatedly tested during a highball project that ejected several of the 'laws from twenty feet up. [/size]

[img]http://photos.rockclimbing.com/photos//624/62441.jpg[/img]
• Shoulder Straps: These fit a bit tight on my frame, and the waist belt was a thin strip made more to keep from swinging side to side rather than take any weight, however, two others that took it out had no discomfort.
• High Padding: Four-inches of thickness also meant that hitting the edge can cause ankle twisters. However, this reviewer will gladly take that chance when confronted with a highball.

[b]11:50 PM:[/b] The evacuation is finally called off. The hills are dotted with embers and an occasional eruption, but the Bastard makes for a great chair as we look for the occasional glimpse of stars between the white plumes of smoke. Twenty-four hours of sleepless chaos and my eyes close to test another use of the crash pad. A test it easily passes as I slip into the night. [/size]
Review
Review by: baja_java, 2005-09-04
like the extra cushioning and quality built, and the 36" width that fits it into the back of my car to double as a mattress