Grasshopper
Item Details
|
Reviews
(
2
)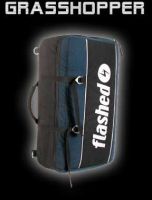 Description
Versitle 3-way bouldering pads. The suitcase/pack style and large carrying capacity make the grasshopper multi-functional and ideal for travelling.
25" X 35" X 3" (target pad)
35" X 50" X 1.5" (starter pad)
25" X 70" X 1.5" (for sleeping/lounging)
1/2" open cell
6" X 8" stowaway pocket
Two handles on each pad. (4 in total)
2000 cubic inches of carrying capacity.
2 Reviews
the grasshopper dream
Review by: bustloose, 2007-02-13
the one, the only, the Grasshopper. Making gear should be about innovation, not just following the lead. This pad will make you glad that some people are still innovators.
The perfect pad to take on a roadtrip, it's compact, stores loads of gear, and is very versatile. People will tell you that it's 'no good for highballs' go figure, it's a small pad. Those same people will thank you when a crew go out bouldering and someone says, "boy it'd sure be sweet if we had a little pad to protect the start..."
The Grasshopper was invented to be creative and versatile. It's been my second pad for years and I wouldn't trade it for the world. Especially for Font, there is nothing better. Everytime I go, people stop me and ask "mais, c'est fantastique, ce mat de Flashed" Yes they know all about Flashed across the pond, in the place where more people boulder than anywhere else in the world. go figure.
Review
Review by: tattooed_climber, 2004-05-24
my friend has one of these...just a great little pad...my be small, but its two in one (pads..), makes a sleeping pad, zippers together (which you can then use as a bag for toting your crap around in.....just awesome..