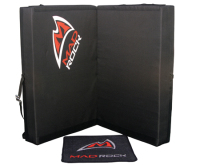 Manufacturer:
Mad Rock



Available now at:
Description
The crash pad of choice for climbers worldwide who donít want to sacrifice financial security on the next send. The Mad Pad is a plush five inch thick combination of open and closed cell foam for firm but comfortable drops. Backpack straps make a breeze to tote in. EZ attachment straps connect securely to other Mad Pads for the ultimate landing zone. Ready to take a load off? Lean back and relax - our aircraft aluminum buckle closure and specially designed straps allow you to convert the Mad Pad right into your own lounge chair. Folded 4' x 3' x 5". Comes with the Madgic Carpet.
3 Reviews
MADPAD
Review by: portercrock, 2010-09-18
Durable, thick, soft landings, and converts to a chair!
Buy one
Review by: anGuiltFree, 2010-05-07
I am a large man. I dont need a wimpy pad if I bail on boulder. This pad saves my Bacon. It's so thick that its hard to position on really uneven surfaces. But the protection is outstanding.
Great all around.
Review by: Rogue0572, 2009-07-19
Very light. Good foam. Nice landings.

The long straps on the sides for the lounge chair feature can be a pain sometimes. I usually tuck them inside. The fabric used on the outside seems ok, but I notice some of it wearing away. It hasn't ripped yet which is a good sign.
The Madgic Carpet is actually very useful and fits inside the pad nice and snug.
Its not very flexible and slightly bulky compared to most pads, but its definitly worth it. Just avoid placing it on pointy rocks, because that is the reason why the cover on mine is wearing away(nothing major)