Magnum Pad
Item Details
|
Reviews
(
3
)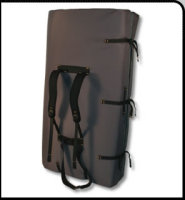 Description
Big, thick pad. Good for highballs. - 4.5" x 48" x 60" - carpeted top - shoulder straps
3 Reviews
Misty Mtn Magnum Pad
Review by: surfcat, 2008-02-22
Awesome pad, well worth the money, very durable and and works well on uneven ground. it is big and rides in the back of my pickup, can't imagine putting this inside your car. Best big pad out there.
Review
Review by: mr_crimps, 2006-08-31
Awesome pad if you don't mind knocking a few trees down on your way in. I feel safe climbing above it, mostly because it's hard to miss and I have never bottomed out on it, even over roots and rocks. Kinda hard to get in the car, it wont fit in the trunk and takes up the whole back seat. If you don't mind the size I would recommend it.
Review
Review by: superxris, 2003-05-19
The Magnum Pad is great. It is huge, so you can take big falls on it and not worry at all. I've taken alot of falls on this, from all sorts of heights and angles, and its saved my life more then once. Well padded. The backpack style harness and belt is a must with a pad this size.
Downsides: The price...its on the high side but thats to be expected of a pad this big.The size, though great while you're falling on it, makes it hard to pack in the car. Make sure you have alot of room, or be prepared to strap it to the roof of your car.The buckles are plastic (though it seems misty mountain may have changed this, according to their website). One of these broke almost as soon as I got it.