ORGANIC Full Pad
popular
Item Details
|
Reviews
(
12
)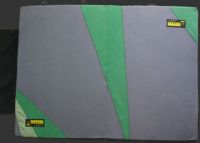 Description
The reincarnation of the cult classic Zealot Love Cushion, we tweaked our Full Pad to allow even greater ease of use. With a 36"x48" landing surface, this pad features the same high quality foam that made Zealot pads famous, only we've beefed ours up to a full 4" thick (1" hard foam and 3" soft foam). A large zippered flap securely carries your gear and keeps what you stuff in the pad from sliding out. Hinged design prevents premature foam wear. Easy grab carry handle on the outside of pad hinge facilitates quick moves between problems. Durable padded shoulder straps are removable and can be threaded through your choice of two slots. This feature enables a better fit for climbers of different heights and an option for fitting the pad low when you're trudging through dense brush. The full pad closes securely via heafty 2" hook and loop straps. The Organic Half Pad slips neatly underneath the flap of the Full Pad enabling easy transport. Top panels sewn in unique one-of-a-kind color combinations - no two pads will ever be the same.
12 Reviews

Write your own Review


Read all 12 reviews
best pad out there
Review by: jbro_135, 2011-01-02
Josh is the man. Best customer service, best product, Organic delivers superior value.
Great Pad
Review by: Guy03, 2009-06-16
Like Everyone else, this pad is amazing. I have the full pad half pad combo and love the foam used in these pads. Josh the owner from organic climbing is great to deal with and is very hands on with your product from the minute you place the order until it reaches your front door.
believe the hype
Review by: rhythm164, 2009-01-22
best pad, hands down. bomber construction with a great carrying system. taken more than a few plummets off highballs and have had no problems. one of the best brands out there, actually delivers on what they promise.
end of the line shoppers.......
Review by: enkline, 2009-01-12
Simply put I own a fullpad halfpad combo and have been using it two days a week for the last 5 months....I have put this set through hell and back and I have no rips in the seams. I have taken many 25 foot falls (approx from the ankles) and I stay amazed that I cant seem to find the limit I have never bottomed out even on my halfpad. If you love yourself buy this pad I have bottomed out on many brands of pads some of them were supposed to be the best. look the name of the game is to not have to use them but when we need them they better work.....u wanna climb more and less injured drop the dime and call josh. Im getting ready to buy another fullpad I do alot of solo seshes and this is my go to pad.
Best of the Best
Review by: Sooby, 2008-10-01
The customer service alone was worth the transaction. When dealing with Josh, the owner, you get a personal service which is almost non-existant these days. This Hand Made pad is top-notch stuff. At 4 inches of high qulaity foam I feel confident in jumping off heights of 10 ft.+ and knowing I won't bottom out like other pads. I don't even notice the hinge in the middle (which is actually a hybrid beeween the hinge and the Taco style design).

I would reccommend going to the website organicclimbing.com and check out his video. He gives a demonstration of the foam he uses compares it to other companies. I was pretty much sold after watching the video and reading all the 5 star reviews. It is a little pricey but sometimes you get what you pay for. I ALMOST bought the BD dropzone II but after reading about how the foam will break down from the folding of the middle and also the fact that this pad is 4 inches thick compared to BD 3.5 (every little bit helps). The price comparison between the two is almost identical.

If you have the patience, put in the order now. My order took exactly 3 weeks to the day to get to my front door. WELL worth the wait and worth every single penny. This pad will last for years. (from my own impression and from what others have said their's HAVE lasted for Years.) Support the little guy, You Wont Regret It~