Samurai Crash Pad
Item Details
|
Reviews
(
1
)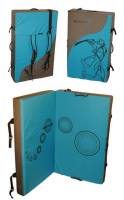 Description
The Samurai Pad is designed with the user in mind. The dual layer of PE and PU foams absorb and transmit shock horizontally. The Samurai dimensions are 40 x 40 x 4 when open. It has briefcase style handles for quick, easy movement. It also has backpack style shoulder straps that are convertible into over the shoulder carry. Cool ripple graphics compliment the overall style of this pad.
1 Review
Great pad!
Review by: Rngray5, 2008-04-14
This is a great pad, don't be afraid of the pricetag, with a little online research you can get it for almost $75 less. I bought 10 of these for my youth bouldering group, and they are wonderful. Bluewater didn't sell many of these, so they connected with a distributor out of Georgia to move the product. Their loss is your gain!