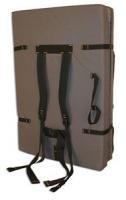 Description
It's no secret. All boulderers do it, whether they talk about it or not. No, its not something sexual, it's sneaking, covert missions, climbing under the radar. The Stealth pad would have been designed with that in mind, if we approved of such activities. Which of course we don't. Never. Not in a million years. But if we were going to sneak into a boulderfield whose unenlightened owner had for some sick reason chosen to deny us access to, well, we'd probably take the Stealth.
Its velcro hinged design, slender profile and ballistics shell would be just the thing for crouching in the briars, slipping undetected in between the blocks, pulling on our slips and sending those gorgeous gneiss/quartzite boulders that were just made to be played on. If the Stealth way is your way, remember to maintain a low profile, leave no trace and crank with extreme prejudice. Available in three colors.
[b]Wt. 9.5 lbs./4.3 kg. $189.95 Size: 3'x4'x3.5"[/b]
2 Reviews
misty moutain stealth pad
Review by: neslodj, 2007-01-15
this pad is great buy worth the money it allows no dead spots because of the the design.
Review
Review by: j_ung, 2006-05-10
[size=12][b] Full Disclosure: The company that manufactured this equipment provided it free of charge to RC.com and RC.com then provided it as compensation to one of the RC.com reviewers. [i]This[/i] reviewer then stole it from [i]that[/i] reviewer and wrote the review himself. He does not intend to give this equipment back. This company does not currently advertise on RC.com.[/b]

A few years back I was working in a climbing gym and it seemed like we were running through ice packs at an alarming rate. "What the Hell?" I mused. "Where are they all going?" Mostly, it seemed, they were going on ankles. Luckily, we kept excellent records, so I dove into our collection of incident reports and tallied a few digits. Of the injuries we experienced in a two-year period, 3/4 were bouldering related. Of those, the majority involved ankles rolled when falling boulderers landed feet first on the edge of a crash pad. Ironically, the very thing that was supposed to prevent such injuries was the single biggest cause of them!

Maybe that's part of why I've never been all that interested in bouldering… until recently. Lo and behold, a relocation to an area rich in pebbles led to my emergence as a beanie-wearin', sloper slappin' talus tugger. Instead of slinging chockstones on lead, I now top them out on lunch beaks. I even have another crash pad – a Misty Stealth. [/size]

[img]http://photos.rockclimbing.com/photos//733/73314.jpg[/img]
[i]My Stealth waits hungrily below.[/i]

Does it cushion you when you fall? Yes. Located right smack dab in the middle of boulder heaven, NC's High Country, Misty is all about bouldering. Their pads, Stealth included, are designed with feedback from some of the Southeast's sickest beanie wearers. I and my ass are happy to report that Misty's experience in the field of bouldering has resulted in a mix of high and low-density foam that is equally adept at helping me stand back up after the highest of high-ball falls and those little butt-dragging, sit-start plops before which my chalk bag never even left the ground.

Is it hinged or taco? Hinged. And actually, this is what I find to be the Stealth's best feature. Misty nailed the hinge like a sailor on shore leave nails a… well… nevermind. They just nailed it. Constructed of heavy-duty three-ply Velcro that overlaps itself, the closure is strong enough that I can pack the pad full of layers, shoes, chalk bags, cameras and water bottles, without worrying about it ripping open. The nifty part is that if you, for any reason, need two pads instead of just one, the hinge can separate entirely to form two separate pads. If space when traveling is an important issue, Hell, just bring half the pad. (Beware, though. If you're cruxin' 12' up and you look down to see only half a crash pad, it's tiny. Might as well be a postage stamp.)[/size]

[img]http://photos.rockclimbing.com/photos//733/73313.jpg[/img][img]http://photos.rockclimbing.com/photos//733/73312.jpg[/img]
[i]Left: The Stealth's ultra-bomber (can you use the word "[/i]bomber[i]" in bouldering?) Velcro hinge. Right: Its not-so-bomber buckles. [/i]

[size=12]Billed as a streamlined, low-profile pad designed specifically for bushwhacking and commando boulder sessions (hence its name), the Stealth's only small weakness pops up ironically in just those circumstances. The pad's buckles, while simple and effective in any normal circumstance are prone to releasing when they snag on rhodo bushes and other underbrush. Bushwhacking, indeed! I know they're fashioned the way they are for quick release, but I think closed buckles would improve this pad.

I've been on and over this pad for almost a year now, and I'm certainly happy to report that I don't notice any degradation of the foam's consistency. The Stealth still provides the same firm cushioning today that it did the first time I landed on it, and it's obvious just handling it that it's built to last from materials that can take a prolonged 160-lb beating. At $189 it's not exactly a price-point pad, but what you get for that is Misty Mountain Threadworks craftsmanship in a pad that will stand between you and the ground for years. [/size]