Stomp Crash Pad
Item Details
|
Reviews
(
3
)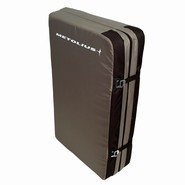 Manufacturer:
Metolius



This item may be available at:
Description
The Stomp Crash Pad by Metolius is a great choice for anyone who is having to count pennies, but still needs a solid, well cushioned pad. The Stomp is highly durable with ripstop nylon and a hinged design that provides you with a safe folding point that lays flat when opened at the base of a problem. Shoulder straps are padded for a more comfortable hike and can be transported by the suitcase style, molded carry handle when going short distances.A great pad for the cost-conscious climber.
3 Reviews
It'll do for a little while
Review by: kristina.xs, 2010-05-22
After two trips to the Niagara Glen and one fall from 5 feet up, the Stomp's already starting to show some wear. The rip stop fabric is super thin and I'm averaging couple new 1" long tears per trip. Other than that though...
The foam feels stiff but not too stiff for someone tiny like me (5'1, 100 lbs). It carries well and is super light and that side handle is great for clipping a biner with shoes and chalk bag attached.
It's a good budget pad, but I'm not looking forward to seeing how many rips I'll accumulate by the end of the season.
Great for the price!
Review by: tweeder, 2009-01-26
I am no expert on gear reviews but I figured I would slap something on here. I have had the pad for a few weeks and love it. You can't beat it for the price. My friend was out with me the other day with his Fat Bastard and I fell on both the Stomp and Fat bastard. The Stomp feels to be a little stiffer but from a 5 foot fall I was pleased it was there. In my eyes you can use a beaner to clip your gear to the handle or straps and save the money they charge to have the fancy sleeve that holds your gear inside the pad like the Fat Bastard. Great pad!
Best of the "budget pads"
Review by: keinangst, 2009-01-20
After 4 years with the Mad Pad, I was ready for something newer and stiffer. Although the Stomp is technically an inch thinner overall, it actually has a half-inch more closed-cell foam than the Mad Pad (very few pads have more than the one basic inch of closed-cell). Bonus: It's much lighter, has Metolius' classic angled hinge, and a few more straps on it. Although it doesn't have pockets or any of the fancy bits found on more pricey pads, this thing is about as good as it gets at this price point. Highly recommended.