Voodoo Highball 4000
Item Details
|
Reviews
(
3
)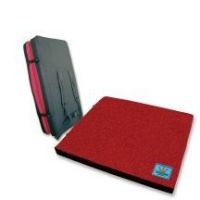 Description
41 x 48 landing surface *4 1/4 inches of beefy foam: 31/2 inches of open cell foam sandwiched between a 1/2 inch top layer of closed cell foam and a 1/4 inch bottom layer of closed cell foam. Overstuffed *Bomber 1680D ballistic nylon casing topped with a plush red upholstery fabric. *Folds taco style with low profile padded shoulder straps, 2 inch waist belt and a convenient carrying handle.
3 Reviews
voodoo highball 4000
Review by: matthewsuckerpunch, 2009-03-28
came across another climber that had one and let us climb with him for a bit. i took a pretty good 6 foot fall on it. landed on my feet and then fell to my knees, it felt super sexy... the velvet wasnt bad for cleaning my shoes either. im about to buy one for my wife and i to use.
Voodoo pad
Review by: Sirsendalot, 2007-11-11
I used this pad last week and I thought it kicked ass. You get what you pay for wich means you get alot of pad.

As I was bouldering around the cheap $119.00 P.O.S. pad I asked the kids that owned it to please get those ankle breaking pads away from my project or do youself a favor and put it in the garbage.
Review
Review by: ajaxjv, 2004-08-17
Good designed pad except for the foam. There is not enough closed cell foam which results in bottoming out on high ball problems. Adding an extra 1/2 inch of closed cell foam on top is a good idea. Also the lack of handles to move the pad around while it is open was disapointing.