Previous
XXL Crash Pad
Item Details
|
Reviews
(
11
)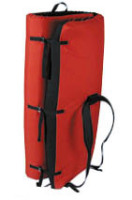 Manufacturer:
Metolius



This item may be available at:
Description
XXL SIZE: Open: 72" x 48" x 3" 1" closed-cell foam/top layer (spreads force of load) 2" open-cell foam/bottom layer (great shock absorber) single sheet foam--no hinge CNC T-6 aluminum buckles-- indestructible! dual carry handles adjustable backpack straps doubles as choice crag mattress! to close, wrap up burrito-style!
11 Reviews

Write your own Review


Read all 11 reviews
behimoth
Review by: Doomslayer, 2013-02-09
This pad is the same as the behimoth pad I bought in 2002. It is a great pad. I have used it constantly. It is showing wear and tear. But the foam is still really good. I have taken big falls on it and it absorbs the shock well. Must have a large flat landing area. Used it mostly in jt. Also good for highball in stoney. All in all best pad I ever owned.
xxl pad
Review by: pyleclimber, 2007-11-14
I dig this pad. It is heavy and awkward, but even on hour long approaches its worth it if I know that I'll be pushing my limits. Besides, we're climbers, getting there is half (well....1/4) the fun, right?
Review
Review by: cmacblue42, 2005-11-20
this was my first and so far only pad. i was amazed by it and the foam is very high quality. and i got it for 200 bucks at rei when a sale was going on and it was the best deal ever. at 260 i dont think I'd buy it but at 200 go for it. try not to sleep on it though since the open cell foam will probly get closed and you will end up bottoming out. i use mine for my slackline and often step on one of the creases to mount so only a small section of it has had this happen on the hinge so it isnt a big deal. very good pad especially for solo boulderers. also, i wouldnt buy it if you are going for an hour long approach or so.
Review
Review by: moscy, 2005-11-10
Pretty much what everyone else is saying. A great pad as far as safety is concerned, but just be aware that xxl means BIG and not very easy to transport.
Review
Review by: vanclimber, 2005-03-27
I bought this thing thinking I required extra pads due to the nasty landings in my home area. Not so. This pad is huge and annoying to carry. I only use it when I am going by myself, which is rare, so it doesn't get used much. I adapted the suspension so I can carry it while it's strapped to my Cordless pad, which makes it a little easier to carry but controlling the added weight is more awkward. I would say if you solo boulder a lot, with nothing to carry besides shoes and chalk, this is the pad for you. Otherwise....