Big Gun Harness
Item Details
|
Reviews
(
1
)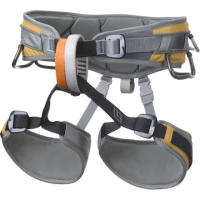 Description
Black Diamond created the Big Gun Harness to give you every comfort and convenience when you start up a 20 pitch big wall climb. This harness includes seven gear loops to hold a massive aid rack, and two belay loops to help organize the tangle of ropes and daisy chains when youre leading. Black Diamond also loaded the Big Gun Harness with enough padding to keep you comfortable at a multi-hour hanging belay while your partner does battle above you.
1 Review
BD Big Gun Harness
Review by: desertdude420, 2011-05-13
Pros:
- Lightweight especially for a wall harness.
- Two belay loops are the bomb! It really simplifies things while aiding.
- I like all the gear loops. Especially the big rear one!
- The price is right.
- You can rack enough gear that it will pull your pants down.

Cons:
- Funky sizing. Try one on before buying. Even if you are familiar with other BD harness sizing.
- I expected it to be a bit more "cushy" like other wall harnesses.
- You can rack enough gear to pull your pants down.