Big Wall
Item Details
|
Reviews
(
1
)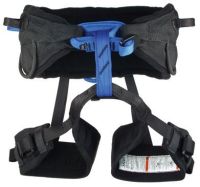 Manufacturer:
Yates



This item may be available at:
Description
Function:
Big Walls, Hanging Belays
Weight: 27 oz.
Color: Various.
Size: SM-XXL, Custom sizes available.
FEATURES
* State of the art Big Wall Harness for over fifteen years! Fully padded harness. 5 1/2" Wide swami belt for ultimate comfort. "New" Double laminate foam inserted in small of the back area of swami for added support. HYPURCEL® foam inserts over hip area to reduce hot spots! Lined with thick Polar-plus® padding. Harness closure uses 4000 lb. rated buckle runner. Excellent racking system with built in hammer holsters. 2000 lb. rated haul loop. Leg Loops are constructed of 3 1/2" brushed Polyester webbing filled with 3/16" HYPURCEL® foam. This new type of foam padding offers the best compression resistance and is guaranteed to never "flatten out" even after extended use."New" adjustable leg loops design is simular to Shield harness. Reinforced donut. Great Wall Harness for Big Guys! 10% Extra charge on custom sizes.
1 Review
Review
Review by: euroford, 2004-04-18
when compairing this harness to yates shield, i would choose the shield, but it was short notice and a shop had the big wall locally so i picked it up and have happily dangling in this harness ever since and now that i own it i won't upgrade to a shield until i wear this thing out. i think its going to take a LONG time to wear out :) super comfy, nicely featured, built like a battle tank.