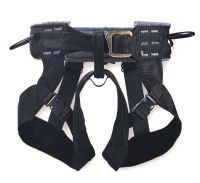 Description
The Black Diamond Bod harness has been redesigned using their Kinetic Core Construction to help radically reduce weight and bulk while at the same time increasing comfort and support for the user. Low-profile metal buckles on the rear elastic risers allow for easy on/off and quick adjustment. The bullhorn-shaped waistbelt with pre-threaded Speed Adjust buckle and breathable, padded lumbar insert take the strain out of hanging belays or heavy racks while four pressure molded gear loops and a 12 kN-rated haul loop allow easy racking for all your multi-pitching and trad cragging needs. BOD SPECIFICATIONS: Weight: 495g 1 lb 2 oz Sizing: Extra Small: Waist: 26-29 66-74 cm Legs: 19-21 48-53 cm Small: Waist: 28-31 71-79 cm Legs: 20-22 51-56 cm Medium: Waist: 30-33 76-84 cm Legs: 21-23 53-58 cm Large: Waist: 32-35 81-89 cm Legs: 22-24 51-56 cm Extra Large: Waist: 34-37 86-94 cm Legs: 23-25 51-56 cm Please allow an extra day or two for delivery on this item.
21 Reviews

Write your own Review


Read all 21 reviews
THE BOD
Review by: Comewhatmay, 2008-01-31
I love this harness, it is comfortable, and easy to put on. There is nothing better than being able to unclip the legs when you are hiking. The price is great too.
Cheap, More Comfy than Alpine Bod, Easy to Put On
Review by: bmwman91, 2007-11-27
This is my second harness (first was the Alpine Bod). I bought it new at REI for ~$40. The little extra padding in the waist made all the difference in the world, and I have no problem sitting in it for extended periods. The clippable leg-loops are awesome as they make putting it on nice and simple (no stepping through anything). Getting them twisted properly was awkward the first few times, but you get used to it.

All in all, this has left me pretty impressed, and I would recommend this to anyone with a moderate threshold for discomfort!
Review
Review by: jotzfo, 2006-07-26
Awesome harness for the price. The side-release buckles for the legstaps are great. They make putting on the harness easy. I also realease the buckles when im not climbing for some extra comfort.
Review
Review by: bryanhowell, 2006-05-18
I've had two of these harnesses, and I get a lot of ribbing from my friends: "Why don't you get something with padding on it?" I dunno if I'm weird, but I find this harness way more comfy than any padded harness I've tried. Maybe it's the wide surface area of the leg loops. Anyway, it's a great, cheap, lightweight harness. I've done my share of hanging in it, and I've got no complaints...
Review
Review by: punk_rocker333, 2005-11-10
Just bought a slightly used one at the local ski swap. You can't beat it for $10. The fleece makes for a very comfortable waist strap. This model also has a belay loop.