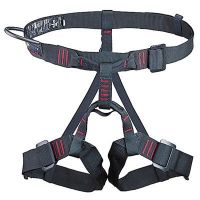 Manufacturer:
Rock Empire



This item may be available at:
Description
Light, compact, one size fits all webbing harnesss at a great price.
•1 haul loop
•1 gear loop
•Detachable rear risers
•Weight 300g
•1 haul loop
•1 gear loop
•Detachable rear risers
•Weight 300g
3 Reviews
good for your friends to learn in
Review by: traverpen, 2008-07-08
I totally agree with hotgemini on his pros and cons, this is a good, cost effective harness. I got it for friends to use, not for me!
The *Perfect* club (not institutional) harness.
Review by: hotgemini, 2007-05-25
I run a reasonably large rockclimbing club, this harness (or the same thing branded as the trango cosmic) fits our needs perfectly. We want a cheap, durable harness that is uncomfortable enough that it keeps new climbers motivated to buy their own gear. We *don't* want a single tie-in point harness because we want the new climbers to get accustomed to a proper belay loop, dual tie-in harness the same as they'll eventually own. We also prefer that it has buckles that need to be manually doubled-back, that way new climbers recognise that as the norm and a permanently doubled back harness as a luxury. It isn't an ideal institutional harness though (camps, guided climbing, gyms etc) because of many of the same reasons, its harder to inspect than a single tie-in point gym harness, a permanently doubled-back buckle means less chance of accidents etc etc.
The latest editions we recieved had two little loops where you could tie your own gear loop out of cord, rather than an actual gear loop. I wasn't very fond of that but its not the end of the world either.
Review
Review by: ontario_guide, 2004-03-08
Yikes! This harness is about as close as you are going to come to a medieval torture device in a harness. Padding does not enter into this harnesses vocabulary. However, it adjusts to fit ANY body type and it's about as cheap as you are going to get. As a result, it's used by gyms alot and climbing schools. Get this harness as an extra harness for when you want to take friends out. If you're going to be spending any time hanging in your harness, get a padded one!