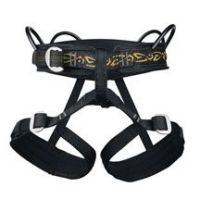 Description
Slim, low-profile buckles on the leg loops of the Dyno AL Harness allow for quick adjustment of the legs to make it possible to fit the loops over everything from cotton shorts to bulky winter shells. Like its namesake, the Dyno AL is anatomically curved to add support where needed (in back) and tapered on the sides for unrestricted flexibility. Four Gear loops.
3 Reviews
Great sport harness at a great price!
Review by: ThunderWhale, 2007-12-18
I've had this harness for about a year or so, and it has served me great for sport leads. It is very light and compact. Even so, it is still comfy enough to hang from (for a while...). These are now very cheap, and I recommend them to anyone looking for a nice lightweight sport harness at minimal cost!
Review
Review by: cadaverchris, 2005-03-17
if you get these on clearance, they are a fantastic bargain. good all around or intro harness:

i picked up mine for $20
Review
Review by: nmoroder, 2004-08-15
5 for value! These are being cleared out for $19.95 through a few different companies. Since it has adjustable leg loops, it can fit over a variety of clothing and can be used by different sized people. I am not a huge fan of the gear loops(they stick straight up until weighted). Other than that small imperfection, I really like this harness.