Elite Syncro Adjustable
Item Details
|
Reviews
(
2
)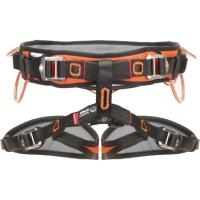 Description
A modern classic, and always subject to rave reviews the Syncro carries its hardcore credentials well and when it was re-made using the Elite principles Wild Country made sure this wasnt lost. And though it gets a shiny new look its feel and features back it up as a great multi-featured and multi-faceted all rounder. And although this new Syncro has been adapted, it nevertheless retains the beefy approach that makes it a superb load carrier and a great all season tool. Incredibly if anything, a new double back pad has actually added support and in a clever way with a full strength, clippable section - great for winter belays Additional clever touches, like the new 10kN Accessory Loops for instance, give even more adaptability - for ice screw clips or much more, while the abundant gear loops, 7 on both models, allow monster wall loads to be endured. The classic double buckle waist means its always centred if you want to add or take away layers and the simplicity of Ziplocks now on legs and waist means the Syncro is quicker and easier to fit than ever even when fully loaded. So with a wide waist belt, all the newest high strength Wild Country features, and in two simple to fit sizes only, this monster covers from 26 to 44 giving amazing flexiblity and performance for men and women. So if youre looking for one tool to do it all in winter, summer, walling or guiding then look no further - as always the Syncro is it
2 Reviews
Just can't beat this harness
Review by: dwbenn, 2011-05-21
I love this harness. I purchased this harness to replace my black diamond momentum. In comparison wild country is far superior. The harness is extremely comfortable to wear and sit in. I found the wider swami to be far more comfortable and supportive. The leg loops were comfortable. my harness has two smaller loops, as well as five standard size loops. Fitting it was a breeze, and the ziplock buckles are by far easier. On my black diamond harness it took a good few minutes to get it on and properly adjusted, my wild country harness is on and completely adjusted in about a minute. I completely feel that the wild country harness is one the best harnesses I have ever looked at and worn. It is excellent in quality and performance as well as features.
High on features for the price
Review by: tigerlilly, 2008-01-09
This harness has a lot of features for the price, like many well placed (but a little small) gear loops and ice clip holders. The swami is quite comfortable, but the leg loops are not as comfortable as those on my Misty Mountain Cadillac. This is my ice climbing harness.