Helix Adjustable
Item Details
|
Reviews
(
1
)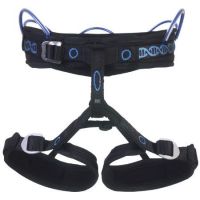 Description
For those who need a little bit more, the Helix Ziplock Adjustable is a superb, lightweight, fully adjustable, smart, comfortable and well appointed harness.
The light legs of this harness give more freedom for those winter climbing or just 'mixing it up' a little more. In this multi-tasking era it's important to have an adaptable alternative to move quickly between disciplines. Adjustable leg loops always help: giving the 'quick change artist' the licence they need but also allowing 'non standard' body shapes to buy a harness that fits first time.
Wild Country's new Helix legs feature a new buckle and a 'floating threadback' design which is easy and quick to adjust - even with chilled digits!
The super strong, amazingly secure Ziplock is the result of two years research to provide a buckle, which, much like putting on a seatbelt, is the unnoticed essence of security, speed and safety. Ziplock means no more danger from forgotten 'threadbacks' whilst speedy, secure 'instant cinch' tightening also means that the loose 'nappy fit' feeling becomes a thing of the past.
Ziplock buckles for instant adjustment
New 'Batwing' waist belt gives support where it's needed most
Extended Fit Range features an increased overlap giving a better, more versatile fit
New, modern, attractive design pattern inspired by nature
Five coloured gear racks positioned for maximum accessibility
3 sigma belay loop is super-safe, marked and rated at 25 kN
Single rear clip off legs
Full strength rear tie in point/haul loop
'Floating' leg loop design gives a quicker simpler fit
Threadback buckle legs undo and redo quicker to aid dressing
1 Review
Review
Review by: jacobg, 2006-09-06
i recently bought this harness for 60$ from my local climbing shop and its a great harness and very comfortable comepared to others i tried out