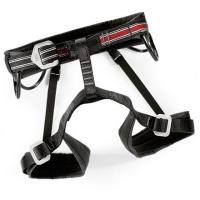 Manufacturer:
REI



This item may be available at:
Description
Good all around harness, similar to more expensive harnesses from other companies.
Features:
*Padded everything
*Adjustable leg loops
*Drop seat
*Gear racking
*Dedicated belay loop
*Fits waists 26-37 inches
*Fits legs 18-26 inches

4 Reviews
Review
Review by: ladylayback, 2004-10-10
Alot of bang for the buck on this harness. I do wish it had a loop in the back and an adjustable rise, however it hasn't been an issue for me. I believe REI discontinued this harness, because I bought this on clearance for $25.
Review
Review by: tyify, 2004-07-23
Its a good harness for the price however lacks things like a chalk bag clip and could use some more padding.
Review
Review by: thun, 2004-04-30

Overall, a great buy for the price. I'd recommend it to any beginner.
Review
Review by: boris_the_crazy, 2003-08-07
Good product. Mine has served me well. Cheap too. Good for us lazy bums w/o jobs.