Matrix Ziplock
Item Details
|
Reviews
(
3
)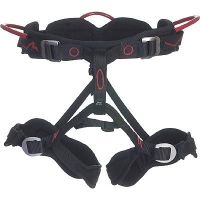 Description
Description:
By placing padding only in critical anatomical areas, Wild Country shaved weight while increasing comfort with the Matrix Ziplock Harness.
Features:
Split pads and muscularly profiled leg loops enhance flexibility for any style of fast-focused climbing
Self-centering, super-safe Ziplock buckles lock down quickly and eliminate any threadback concerns
Threadback buckle legs undo and redo quicker to facilitate dressing
Specifications:
Weight: 13.7 ounces
Belay loop: Yes
Gear loops: 3
Padded waist: Yes
Padded leg loops: Yes
Droppable leg loops: Yes
Specifications based on size Small.
3 Reviews
Matirx Ziplock
Review by: myarmy33, 2008-07-25
I got this Harness as my first harness. I have tried many other harnesses and it just dosent match the comfort of this. If it dosent fit then it is NOT going to be comfortable.
I have used it for Rappelling as well as climbing and is great for both. Good choice if it FITS
Review
Review by: rainontin, 2005-03-16
As with any piece of personal equipment, it will work better if it actually fits you...mine fits and I love it. It feels great in the sense that it doesn't feel like you are wearing a harness at all. 4 large gear loops and one smaller one in the back. Does not have a haul loop, so be weary non-sport climbers. The only problem I've had with it is the dual buckle belt system. Since it is not doubled back (which you don't have to do with two buckles mind you) the belt slips a bit if you fall/hang in it too much. Nothing serious at all, but it is just enough that it becomes annoying to re-adjust after every other climb. Other than that, this is a great harness.
Review
Review by: scubasnyder, 2004-10-10
This harness, not for me, it wasnt too comfortable, lots of gear loops and everything but just a good fit on me.