Momentum Dual Speed Harness
Item Details
|
Reviews
(
1
)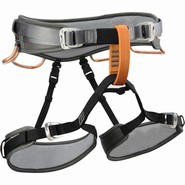 Description
With pre-threaded speed buckles on both the waist and leg loops, the Black Diamond Momentum Dual Speed Harness gives you a safe, secure fit with the pull of a strap. The bullhorn-shaped waist adds comfort while you work on your project or endure epic belay sessions, and the pressure-molded gear loops give you enough space to rack up for any vertical outing.
1 Review
Alright
Review by: rjgagliardi, 2009-08-31
It's nice. It's very adjustable as you would expect. It has no haul loop, which is ok. I like the orange accents. When hanging on a route or belaying a hang-dog it isn't the most comfortable harness to be wearing. My old Momentum AL had a little more padding. Really this more of the idea winter harness. It's very adjustable depending on how many layers you have on. The extra layers will help with the lack of comfort. I will probably get a Chaos or something else with Kinetic Core Construction soon for indoor/summer climbing. On that note. If this harness had Kinetic Core Construction and was more comfortable it would be the best harness in the world. I love the fact that it had dual buckles.