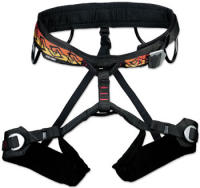 Manufacturer:
Rock Empire



This item may be available at:
Description
Comfortable all-purpose harness.
Fully adjustable and fully padded

- available in XS-XXL
- 4 Stiffened gear loops
- 1 haul loop
- Detachable rear risers
- Weight 410g (medium)
6 Reviews

Write your own Review


Read all 6 reviews
My first harness
Review by: mumba, 2011-05-21
I got it on a sale for a bargain (25 €) and I used it for 5 years. It is still in good condition and worked really good. It is nicer with a automatic buckle but the manual on this one felt sturdy and was easy to use.

Pros: Cheap
Cons: I didn't really like the gear slings. Not the most comfortable harness I have owned
Review
Review by: wallie, 2005-12-16
I got the Peak Plus version. Works well although the thigh loop is sized larger than other harnesses. Nonetheless it's a good full-featured harness for the price.
Review
Review by: tallnik, 2004-08-25
Does what its meant to do, and I'm comfortable doing it. For the price it can't really be beat. Not sure how it would handle big wall, I can imagine it getting uncomfortable pretty quick. All right in hanging belays though.
Review
Review by: schnoz, 2004-03-14
I find mine fairly comfortable to wear for long periods of time.

My only complaint is that the small adjustable runner below the bottom tie in loop is held by a plastic buckle with broke a few months after I bought it. It's' not a safety concern, but my legs can move around more than they should while I'm sitting into the harness. It's especially uncomfortable on rappels at times when one leg is higher than the other and I can't seem to get them centered again.
Review
Review by: ontario_guide, 2004-03-08
This seems to be a fairly common started harness around here. It is fully adjustable and reasonably padded. What makes this harness a real winner though is the price! They can be a bit uncomfortable when sitting in the harness for a long period of time and they tend to be sized fairly oddly. The leg loops on my small are the same size as the leg loops on my medium that I use for ice climbing.