Saturn PSi
Item Details
|
Reviews
(
2
)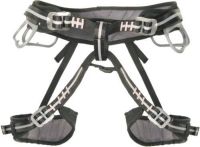 Manufacturer:
Mad Rock



This item may be available at:
Description
A four-buckle titan, the Jupiter offers the most in adjustability and sizing. Ideal for climbers looking for a varied fit range in their harness. The innovative PSi series waist belts uses Mad Rock's exclusive sculpted air pockets that are thicker where you need padding and leave space for breathability and maximum comfort. These mini air bags are filled with inert gas, and offer greater protection under loads than foam alone.
Regular (Waist 24"-34")
Large (Waist 34"-42")
2 Reviews
Its a good deal.
Review by: billash, 2008-04-16
So, I'm just getting started with climbing. I've been a few times before and finally bought my own stuff so I don't have to mooch off my friends as much.

I bought this as a package deal with the harness, belay device (ATC and biner), chalk bag and 3oz chalk ball. All that for 80 buck to my home in 4 days. (I bought it off the madrock.com site.)

Review
Review by: punxnotdead, 2006-11-01
Great value on a fully adjustable harness. Gear loops are plentiful, haul loop is big and easy to find. Belay loop is large enough to feel secure.