Syncro Ziplock
Item Details
|
Reviews
(
3
)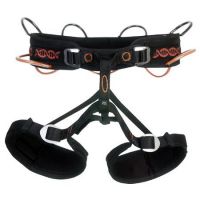 Description
Carrying the kitchen sink? Big walling, winter climbing, instructing, then this is the harness for you.
The ultimate in comfort and performance the Syncro's double buckle waist allows a perfect fit every time and with new more resilient foam and up to 9 gear loops the Syncro is the best load carrier on the market.
Tweaked for 2004 the new Syncro has a host of new features to make sure it fits a wider range of body shapes first time. Each size has a larger expansion range (up to 12") and a new leg loop shape, making it fantastically adaptable allowing for winter clothing with ease.
Regular
- New super beefy 8mm foam waist gives solid support on this size for the bigger climber. An abundance of gear loops, nine in all, allows an amazing carrying capacity and the ability to personalise how you carry your gear, or use them to store your axe in for winter exploits.
Small
- In a lighter 6mm foam which complements the sizing the new version has moved to six gear loops for extra capacity and has had a size increase to help fit more people.
Ziplock buckles for instant adjustment
New 'Batwing' waist belt gives support where it's needed most
Beefy 8mm foam waist belt
Duo-buckle design - allows for perfect 'centring' every time
Single point rear clip off legs
Thread back buckle legs undo and redo quicker to aid dressing
'Floating' leg loop design gives a quicker simpler fit
Nine coloured gear racks positioned for maximum accessibility
3 sigma belay loop is super-safe, marked and rated at 25 kN
Full strength rear tie in point/haul loop
3 Reviews
All arounder
Review by: moose_droppings, 2007-05-18
I've had this harness for a year now and its a great all around work horse. The extra gear loops are handy and the comfort is great even for hanging belays. Plenty sturdy for a long day on the wall, but look for something a lttle better suited for muti-day excursions.
Versatile and Comfortable
Review by: Helios, 2007-05-15
After suffering hanging belays at EPC with a bargain basement harness, I upgraded to something more substantial. Haven't had a hanging belay yet, but I did use it to set a route in a gym and was very comfy hanging for an hour. I love the 9, yes NINE, gear loops on this, which organizes gear on my harness better than a pegboard in a garage! Double buckles keeps gear and quickdraws centered. Not overly bulky for sport climbs either.
Review
Review by: mkjwngoat, 2005-04-02
No more back ache! spend a couple days in it, you'll love it too. Top gear loops work as hammer holsters. two ziplock buckles - ingenious! No more rediculousness for me... This is cush, convient, and priced just right.