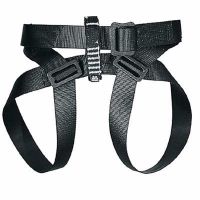 Description
The Voyager Harness, is an entry level, fully adjustable, one size fits most harness. The Voyager is constructed from a single section of 1-3/4 flat weave webbing with slide adjusters on the leg loops and our BlueWater double pass waist buckle. The Voyager is the perfect choice when a wide range of adjustmet is necessary. Available in Black only.
2 Reviews
Review
Review by: theonlynebraskaclimber, 2005-06-24
We just got this in the gym i work in, it is a deal, but takes a wile to get on and after you sit in it for about 10 min you legs get numb.
Review
Review by: dontfall, 2004-05-19
I haven't used this specific harness but I have used harnesses almost exactly like it when working with ropes courses and such. Easy to get on and get off. Big belay loop in front allows easy access to tie your figure 8 follow thru or whatever knot you usually tie in with.