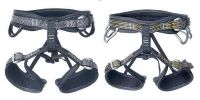 Description
comfortable and ergonomic design
mesh padded
light weight
adjustable leg loops
moulded plastic gear loops
removable rear stretch strap
reinforced tie-in points
safety stitch line
13 Reviews

Write your own Review


Read all 13 reviews
Good first harness
Review by: microbarn, 2007-10-15
This harness was the cheapest most comfortable available at the local gear store. I liked the harness and it served me very well. I like the full adjustability, and I would readily recommend it to another climber. I see room for improvement in the weight of the harness, and also the comfort when hanging in it for a long time. Seeing as how it was among the cheapest of the harnesses sold, I would be surprised if it were perfect.

My wife also has this harness, but she has the smallest size. Her harness only has 2 gear loops. This makes it difficult to clean gear climbs without a sling.
Good first harness
Review by: SeeLee, 2007-08-13
This is my first harness, and so far I can't complain too much. The leg loops don't fit me as well as they could, and there is no haul loop in the back. However, for the low price one can't complain too much.
review
Review by: al_piner, 2007-02-17
I never could get the leg loops adjusted to where I was comfortable . I would also have to snug up the swami buckle if hanging in it for a while . I'm 5'11" 190 lbs.
The four gear loops are nice and the removable leg loops are handy but I wouldn't recommend this one to heavy climbers .
not bad
Review by: climbingaggie03, 2007-01-22
good sport harness, simple, adjustable, light. I don't like it for gear climbs though, cause the gear loops are too small, I like to rack on my harness and I can't get all my gear on this one. It also doesn't have a haul loop, but for sport routes, it's great. It also might be good for alpine since it's not too heavy and is adjustable.
Review
Review by: fowler214, 2005-10-18
For price and comfort it is a great choice.