Mens Sama Climbing Harness Kit
Item Details
|
Reviews
(
1
)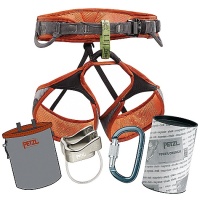 Manufacturer:
Petzl



This item may be available at:
Description
Petzl Mens Sama Climbing Harness Kit Spring 2009 Whether purchasing your first harness or upgrading from an old faithful, this kit offers the perfect mix of gear. The multipurpose, ultra comfortable SAMA harness Kit by Petzl is designed for high performance, the versatile and ultralight VERSO belay device and AmD SCREW-LOCK work perfectly together, and the BANDI chalkbag comes with 100 g of our POWER CRUNCH chalk to get you ready right away for your next climb.Features:The SAMA harness is Petzls top-of-the-line mens multisport harness for high performance in all conditions and is tailored specifically for mans physiqueThe VERSO belay device accepts nearly every rope on the market and is paired with the symmetrical AmD carabiner preventing additional friction caused when HMS type carabiners flip over during useThe mens BANDI chalkbag features a one-handed opening system to facilitate access when you forget to open the bag before you start climbing. Sized to fit a mans hand thus adding both performance and ease of access when you most need it. It can be used with a belt not included or attached to the harness with a carabiner.The kit also contains 100 g of our POWER CRUNCH 100 magnesium carbonate chalk giving you enough to fill the BANDI bag plus extra for a refillSpecial edition CD/DVD includes information and videos unique to this kitSpecifications:CE, EN 12277 type C, UIAA 105 harnessMade in France3-year guaranteeWeight: size M weighs 880 g
1 Review
Harness
Review by: Climber8080, 2010-07-27
I have been climbing for 8 years and have not had a more comfortable sport climbing harness. Petzl made the harness light enough for high performance and comfortable enough for prodjecting.