Momentum Harness
Item Details
|
Reviews
(
4
)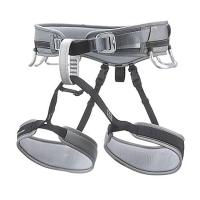 Description
Comfort and durability characterize the Momentum Harness. Climbers will find comfort in the seven millimeters of closed-cell foam. This, paired with the 3-D mesh lining through the waistbelt and leg loops, provides maximum breathability. Durable-molded gear loops offer easy access when racking or reaching to grab a draw. An abrasion-resistant tie-in point and removable leg loops make the Momentum durable, functional and affordable.
Sizes: XS, S, M, L, XL.
Weight: 450 g (15.9 oz) Size M
7-mm closed-cell foam and 3-D mesh provide comfort
Durable molded gear loops
Superior abrasion-resistant tie-in points
4 Reviews
Review
Review by: sam_dude19, 2004-07-30
Get's the job done!...not the most cumfy...not as packed with features as some. Awesome for the price and I have noticed no such "FLAW" in the waist belt!
Review
Review by: chuffinator, 2004-04-25
I had the older version of this harnes, it was good for the price. This new design has a flaw in the waist belt. Once it wears out the notches in the belt makes it a bitch to pull through the buckle.
Review
Review by: hazael, 2004-04-18
No text provided
Review
Review by: coylec, 2004-03-02
This was my first harness. It is a great beginner's harness, because it has all the features one needs to being to lead, but not too much extra.

The gear loops are adequate for a light rack or sport climbing, but quickly get bogged down. Each of the four main gear loops comfortably holds 6-7 ovals (maybe 7-8 light Ds). The rear (small) loop holds about 3. The harness is light in the padding, but is enough. I have taken several falls in this harness, including a 25 footer. The impact was severe, though I did not feel any discomfort from the harness, nor did I suffer any bruises.

The lack of adjustable leg loops means that it not comfortable for hanging belays, however, few beginning climbers will be in hanging belays, IMHO. They are fine for hanging out at a belay station for a while though.

Overall, the harness rates a three on my scale. However, if you are a beginner looking for your first harness, this one is a great deal looking at price and function. It's not going to be appropriate for Zodiac, but it will be good enough for sport routes and small multipitch trad.

If you use a gear sling (which I don't), you may find that its more useful for longer (i upgraded to an Astroman because of the lack of gear loops).

The sizing runs a little large, so try it out in the store first. Caveat: I like my harnesses suffocatingly tight.

PM if you have more questions.