Phoenix Climbing Harness
Item Details
|
Reviews
(
2
)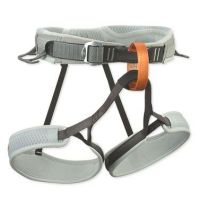 Description
The Black Diamond Phoenix harness is an ultralight, high performance sport climbing harness that weighs in at just 325g. The new Phoenix has a sleeker, padded waistbelt that is comfortable for working routes while its exterior has been designed using lightweight, abrasion-resistant fabrics. New molded gear loops are flexible and have specifically designed tear-away slots for desperate clips. Lightweight materials and buckles make the Phoenix a premium choice for modern sport climbs when youre climbing at your threshold. Vendor
2 Reviews
Cheap, Light AND Nice?
Review by: rockandlice, 2009-02-17
I'm impressed. At 50 bones I wasn't expecting something this nice to be honest. I was planning on purchasing one of the new Arc Teryx models for the raved about comfort, and decided to grab this until summertime to hold me over. After climbing in it for 2 months, I could care less about purchasing the Arc Teryx. This is the 5th harness I'ved owned since the early nineties and by far my favorite to date.
Review
Review by: samxbam8, 2005-12-11
No text provided