S240 Sport Climbing Harness
Item Details
|
Reviews
(
3
)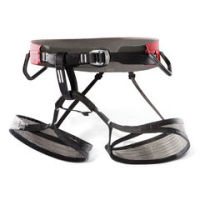 Manufacturer:
Arcteryx



This item may be available at:
Description
Inconceivably thin, supple and lightweight, the Arcteryx high performance S240 Harness for men takes sport climbing to a new level. WST provides universal support to the waist belt, while the unique lightweight mesh leg loops deliver unprecedented breathability and support. Designed with a unidirectional mesh that provides bridging support in one direction and complete flexibility in the other, these cutting edge leg loops are as comfortable as conventional foam padded ones. Additional features include a self-locking buckle that provides quick entry and exit, belay loop, and wear safety markers on the tie points that help keep you climbing smart. Includes storage bag,
3 Reviews
Great Harness
Review by: secander, 2011-05-19
Simple, comfortable, and light. I personally prefer the R320 (which I also own) because of it's extra gear loops despite the added weight, but the S240 is phenomenal for sport climbing!
Editorial Review
Review by: vegastradguy, 2009-12-21
http://www.rockclimbing.com/Articles/Gear_and_Reviews/Arc_teryx_WST_Harness_Editorial_Review_777.html
Am I still wearing my harness??
Review by: ianmeister89, 2009-11-22
Outrageously comfortable, flexible, thin, and light. The way they make the harness enables it to be ridiculously comfortable with no padding. Has an extremely low profile, so works great for those tight squeezes, or those really awkward sends. A few minor downsides: No haul loop (I made my own with 1/2" tubular.), no drop seat (but that's not really what it's designed to do anyways)

All in all, this is definitely a great harness, certainly worth the extra coin. :)