Safe-Tech Sport
Item Details
|
Reviews
(
3
)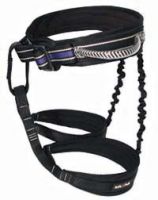 Manufacturer:
Metolius



This item may be available at:
Description
Minimalistic Sport Climbing harness designed to the same standards as Metolius' new series the "Safe-Tech". The sequel to the Specialist, the Safe-Tech Sport embodies the same minimal ideals while incorporating the added safety features of the safe=tech series, e.g. spectra sewn gear loops. Lightweight, two sizeable gear loops, stretch leg loops and rear risers.
3 Reviews
safe tec sport
Review by: Shepherd87, 2012-03-24
Very light and comfortable, not always a possible combo, plus the extra good feeling of the whole thing being pretty bomber. No problem hanging or belaying in it. Very happy with the purchase.
A great harness
Review by: gblauer, 2011-04-23
I have spent plenty of time hanging in this harness and found it to be rather comfortable. Leaverbiner wrote this review in 2004, I suspect that Metolius has iterated several times on the harness since them. Overall, it's a great harness, I am on my second one...I wore through the tie in points on my first one.
Review
Review by: leaverbiner, 2004-06-29
The Safe-Tech Sport is a great lightweight harness for those trying to go bear bones, or those that don't like bulky cumbersome harnesses. Metolius has added slightly more padding to the waist from its previous design, and much needed improvement for those of us that spend a lot of time belaying. The aded safe-tch features are nice to give you an added sense of security in case you truly screw something up. This harness is not recommended for multi-pitch or peopel who spend a lot fo time sitting/hanging in their harness . . . it will get uncomfortable quickly!