Harness Pack
Item Details
|
Reviews
(
1
)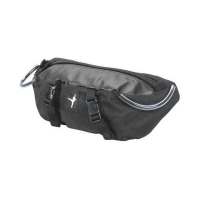 Manufacturer:
Metolius



This item may be available at:
Description
Metolius Harness Packs finally solve the age-old problem of how to carry essentials (water bottle, route topo, lip stuff, energy bar, wind jacket, etc) once the climber leaves the ground. Free climbers, aid climbers, alpinists, and speed climbers finally have the perfect tool for carrying the essentials. The harness packs come with a Platypus water bottle and have external compression straps which you can use to carry a light jacket or windshirt. Ergonomically tapered to rest snugly against your waist belt, the Harness Pack has double attachment points with velcro closure and a buckle backup in case you go for a ride. Inside you'll find a small zippered mesh security pouch. Two small external gear loops add additional carrying capacity.
1 Review
Review
Review by: tim, 2004-04-19
This thing is so deceptively simple. Mine is a size small, I do not think I would appreciate the larger model, but who knows. Anyways, for longer routes (in-a-day Grade IV/V walls or free climbs, car-to-car epics where water is not an issue, etc) this device makes it trivial to carry sunscreen, half a liter of water, a headlamp, windshirt, and a snack (eg. clif bar or a packaged burrito) without cramming your pockets full of stuff. The pack itself has proven very durable for me, and the attachment mechanism is well engineered (velcro + fastex). I suspect there may be issues attaching it to some harnesses (Yates and modern Petzl designs come to mind) but if it fits your rig, I believe it represents a good value, and may force you to climb better by going lighter.