Ice Clippers
Item Details
|
Reviews
(
1
)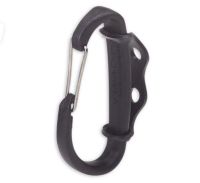 Description
The Ice Clipper helps you rack and access your screws with ease. With a flat back for reduced rotation, the lightweight Ice Clipper is also a secure method of clipping your tools to your harness while placing pro or descending. Multi-functional and indispensable on today's ice lines, the Ice Clipper brings new meaning to convenience. Non load bearing.
1 Review
Review
Review by: embers, 2005-04-07
realy good. Big enough gate opening to fit BD rage axe heads into it. Good as it can be fitted to any harness. Once fitted it does not move and is very secure. Can also be fitted to rucksack waist straps if using a bag while climbing.