Ouistiti Full Body Climbing Harness - Kids
popular
Item Details
|
Reviews
(
1
)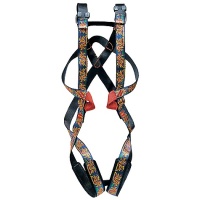 Manufacturer:
Petzl



This item may be available at:
Description
The Petzl Ouistiti Kids Climbing Harness works for children from 4 to 9 years old and gives your future rock star a safe start on top rope laps. This full-body harness includes Petzls DoubleBack buckles for fast, easy, and secure adjustment and a comfortable fit. The center-chest tie-in point keeps your kid from flipping upside down in a fall. The Ouistiti Childrens Climbing Harness also includes well-padded leg loops to make your little one comfortable on climb after climb.
1 Review
Review
Review by: lextalion, 2005-09-09
This is a great harness for my little climbers. It gives me the security of knowing that they won't fall out of the harness.

It is recommened for kids whom like mine began climbing at age 3-1/2. And it is known that little one are top heavy at this age and require full body harnesses for this reason.

The boys have almost out grown wanting to use it due to the fact that they see everyone else using seat harnesses.