Wiz Kid Climbing Harness
Item Details
|
Reviews
(
3
)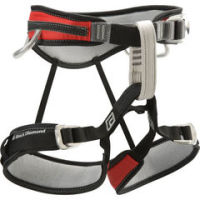 Description
Designed to be a mini version of our new Momentum Harness, the Wiz Kid has all of the comfort and durability of other Black Diamond harnesses. With fixed gear loops and a belay loop, the Wiz Kidís modern styling allows a child to climb alongside his or her idol and still look cool. Recommended for top-roping only. One size. Fits kids ages 5Ė10.
Weight: 305 g (10.8 oz)
Kids harness that looks very adult
Fixed gear loops and belay loop
Comfortable and durable
3 Reviews
Review
Review by: lextalion, 2006-01-01
This harness is the bomb according to my youngest son whom got this for his 6th birthday.
As mentioned before it looks cool to the little guy because its like the adult harnesses. I'd like to see adjustable leg harnesses but the harness is very safe.

I will be getting another one for my eldest as he builds interest in more than bouldering.
Review
Review by: curious_georgette, 2004-06-10
A pretty good all around harness for kids. The only drawback is the fixed leg loops, makes it a little difficult to get on over heavier clothing. My kids love theirs though since they look just like adult harnesses.
Review
Review by: mattdog, 2004-05-02
This thing is absolutely great. We bought it for 6 year old son a year ago and he thinks its the coolest thing in the world. Its got a line to attach a chalk bag and a mesh bag to put it in after he's finished. Its rated from 35-90 pounds, so your child can wear this practically all his youth until he grows into an adult harness. Great product. (For top-roping only!)