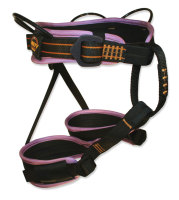 Description
Built along the same lines as our women's Silhouette, the Finesse features die-cut laminate construction with cross-linked PE foam padding, durable nylon cordura outer material, and beefy woven nylon webbing encircling waist and legs fully for durability and security. The waistbelt is cambered for optimum fit. Adjustable leg loops with long rise and droppable leg loop holdups in back make this a great choice for short sport routes and longer trad routes. Four gear loops, strong rear webbing haul loop, tail tuck sleeves and the new harvest gold accents complete the all new Finesse women's harness.
2 Reviews
Bulky and Uncomfortable
Review by: Quarry, 2012-09-03
Bulky and uncomfortable. My BD Iris was better. I guess this one is more hearty or something. Hate that all of their women harnesses are in "girl" colors.

I'm looking for something lightweight for my next one. This also makes my legs hurt if I'm setting at the gym. People tell me that Misty is good about padding and to check out the Cadillac. I want a lightweight space-age technology harness, not pillows strapped to me with webbing.
My introduction to women-specific harnesses
Review by: aerili, 2008-05-11
and I'm sold. I doubt I'll be switching over to anything that is not a Misty Mountain women's harness any time soon.

I got tired of wearing my so-called "unisex" Petzl Corax--the leg loops always cut into me in the wrong places, the waist belt bruised my hips and back after long/frequent semi-hanging belays, the gear loops sucked, etc. It was my first harness, so I resolved that my next one would be a woman-specific harness.

I have a classic hourglass shape and Misty makes harnesses that fit the female anatomy well. The waist belt always sits at the right place and the leg loops never move around or hurt me like the Corax did. It's much more comfortable to hang in, as well. (We all know "unisex" harnesses were really developed on male body dimensions anyway.)

I use the haul loop all the time to carry my shoes and windbreaker during multi-pitch outings (freeing up gear loop space for things like...gear!), and I like the snapping leg loop attachment in back that allows one to drop the back of the harness when nature calls.

Did I mention Misty's huge and excellent gear loops? If you rack on your harness sometimes or always, these are the most accommodating I've used or seen available.

Lastly, I like it when gear manufacturers use distinctive, attractive, feminine colors for women's products--like what you see in the Finesse.

The only drawbacks about the Finesse (to me) are: I got used to the always-double-backed buckles on the Corax, and I do miss that feature. Also, I wonder why Misty gives the guys two additional gear loops on their Cadillac and Titan harnesses and they do not feature the same thing on either of their women's harnesses?? Otherwise, I can't find many faults with the Finesse.