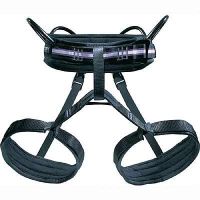 Manufacturer:
Arcteryx



This item may be available at:
Description
Description:
Exhibiting strength and grace, the Arc'Teryx Isis harness for women sports a shorter rise, re-shaped waist and legs that provide a better fit for women for unsurpassed comfort.
Features:
Surefit™ 3" leg loops adjust to fit various leg circumferences
Quick release drop seat leg loops simplify pit stops
Belt and leg loops are thicker at the back for extra support
Specifications:
Weight: 12 ounces
Belay loop: Yes
Gear loops: 4
Padded waist: Yes
Padded leg loops: Yes
Droppable leg loops: Yes
3 Reviews
odd proportions
Review by: lixy, 2008-06-22
I got this because it was one of the few women's harnesses with fixed (elasticated) loops--I personally don't like buckles on my thighs. This a a well made, sturdy harness, but i find the proportions of waist-size to leg size are ridiculous--the legs are way too small in relation to the waist (esp for a "women's"!). And i have really skinny hips and legs, and a large waist, but even for my proportions this harness legs are too tight. I basically sized up, according to the instructions on the website, and the waist is still too big, especially annoying when i'm leading and the rope drags it down. The legs are definitely nice and snug, and maybe they're supposed to stretch eventually--so my advice is do not get one on the smaller end of your size!
Review
Review by: elissa01, 2005-05-21
No text provided
Review
Review by: maculated, 2004-06-02
I do like the Isis. I've had it for four years and done every kind of climbing with it (ice, aid, sport, trad, etc) with no problems. I have HUGE legs and the leg loops fit just fine. Less to worry about breaking down or not being set properly. If you're going to have to be peeing, etc on a wall or alpine climb, though, obviously, that's a negative.

The Isis isn't really a "beginner" harness, but it's a high quality one that will last.